Inquiry Based Learning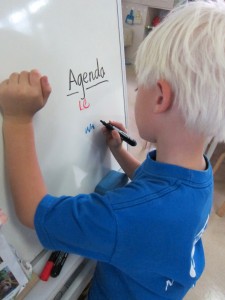 A Fish-friend Inquiry
Read about 5 yr old Walter's paper fish discussion...  
 "IB was a great experience. It allowed me to really grow and expand my horizons..."
-- IB Diploma Graduate
International Baccalaureate educators are specially trained to develop a child's natural curiosity. They teach students of all ages to develop the skills necessary to be inquisitive, to research new areas, and show independence in learning. Teaching children and teens to be successful inquirers means that they get to be actively involved in how they learn, rather than passive participants. This active involvement leads to a love of learning that lasts throughout their lives. Each of the three programs build consecutively to develop skills, knowledge, and understanding that is normally reserved for college and university levels.
Beginning in IB pre-school, classes are designed based on the developmental needs of each age. At an early age children learn to ask questions and investigate their interest and inquiries in a supportive and loving environment. As students move throughout the three programs they learn to research, share their increased understanding with the community, and present, question, and reflect on traditional academic knowledge as well as apply these skills to original ideas.
As part of this work, students are expected to extend both personal and community understanding through culminating projects during their last year of the primary years, middle years, and diploma programmes. The quality of the learning experience, final product and personal reflection demonstrate individual determination and passion and the ability to plan and carry out the process of design and creativity at a level that far exceeds local and state standards.The collaboration and recognition for these activities often extend and involve parents, family, community organizations, subject-area librarians, and experts, way beyond the school and sometimes even beyond the local communities.
At a time when experts say that in many fields what is taught in a student's freshman year in college will be obsolete by the time they graduate, the emphasis can no longer be on teaching facts and theories.  Our children need to embrace and be active participants in a world of constant change. What students know is no longer nearly as important as how they learn; how they adapt to change and to differences in styles, views, and approaches; and how they work together to solve common challenges. These are the skills that IB fosters and develops from pre-K through high school. That is why our IB students will not only succeed in life, but will thrive. 
Principled Action
Middle school student Hannah tallies over 200 hours of community service and wins state-wide honors.
Action in IB programmes may involve service learning, advocacy and educating yourself and others. Principled action, as both a strategy and an outcome, represents the IB's commitment to teaching and learning through practical, real-world experience. IB learners act at home, as well as in classrooms, schools, communities and the broader world. Action involves learning by doing, enhancing learning about social and self and others. IB World Schools value action that encompasses a concern for integrity and honesty, as well as a strong sense of fairness that respects the dignity of individuals and groups.
Challenging learning environments help students to develop the imagination and motivation they need in order to meet their own needs and the needs of others. Principled action means making responsible choices, sometimes including decisions not to act. Individuals, organizations and communities can engage in principled action when they explore the ethical dimensions of personal and global challenges. All three programs include a focus on action.
In PYP students learn about the Action Cycle and participate in the 5th grade Exhibition as well as service projects at the school. In the Middle Years Program, students learn specific ways to take action in the classroom and begin to plan and participate in service learning, and taking action through service inside and outside the classroom. Student learning culminates by planning and reflecting on a Personal Project at the end of their MYP experience. At the Diploma Program level students participate in at least 150 hours of Creativity, Action and Service (CAS), one of the requirements to earn the prestigious the IB Diploma. 
At elementary level, the PYP action/service is built around the 'action cycle' of reflect-choose-act, and independent actions taken by kids as a result of each unit are noted in the teaching team's reflections each year.  Even a small action reported, like asking a parent to conserve energy by turning off lights as a result of learning in the classroom, is recognized by the teacher.
Learning 
a 2nd 
language 
has been linked 
in many studies 
to higher 
achievement 
at both school 
& university
World Language
It might seem obvious to state that languages are the lifeblood of education – after all, most schools teach their students more than one, recognising the importance of multilingualism in the modern world.
But beyond the learning of language lies a far more complex web of inter-related issues: students' ability to learn in their 'mother tongue', the use of language as a tool for enablement in the classroom and the preservation of indigenous culture through language.
IB World's language issue is given over in equal measure to the experts and those who must deliver language learning in real life. 
Ideal Preparation for University
(printable version )
It offers academic breadth and depth
We know graduates do well. In 2011, figures from the UK's Higher Education Statistics Agency found that IB graduates were "much more likely to be enrolled at one of the top 20 higher education institutions than entrants holding other qualifications." Studying six subjects means students aren't forced to narrow their choices while still at school, and can keep university options open. That doesn't come at the expense of academic rigour, though. IB Diploma Programme students follow three subjects at Higher Level, where they receive 240 teaching hours in each. And learning a second language has been linked in studies to a higher level of achievement at both school and university.
Graduates care about more than just results
The creativity, action, service (CAS) requirement in the Diploma Programme encourages experiential learning – acquiring knowledge through direct experience. That could mean anything from building new homes in Africa to creating a newspaper for your local community. It gives students a perspective on the world, and the drive to plan their own activities – all skills that help distinguish IB alumni in the university admissions process. As IB graduate Gregoire-Francois Legault, now studying at McGill University in Canada, puts it: "While some see [CAS] at first as a pain, most do way more than the 150 required hours."
It creates independent learners who feel prepared
Every Diploma Programme graduate will have written an Extended Essay – an immersive research paper of up to 4,000 words that requires independent research and excellent organizational skills. A 2011 survey of university admissions staff undertaken by Cardiff University, UK found they valued the Extended Essay's role in developing cognitive, research, writing and communication skills. Dr David Conley, Professor of Educational Policy and Leadership in the College of Education at the University of Oregon and founder of the Educational Policy Improvement Center, says the IB "exceeds standards in critical thinking and research skills" required for college-readiness in the USA. And many Extended Essays are presented at admissions interviews, to demonstrate students' analytical skills. Perhaps all that college-readiness is why research by SRI International found the graduation rate for IB alumni after four and six years studying in US universities was higher than the national average.
It's a genuinely international qualification
Major global challenges require global solutions – and the Diploma Programme aims to balance local and national identity with an international mindset as part of its commitment to building a better future. Students learn to see the world from different cultural perspectives, while learning another language that will help them communicate with peers from different backgrounds. "Like all IB programmes, the Diploma Programme aims to encourage students to become internationally minded people who recognize their common humanity and shared guardianship of the planet," explains Robert Harrison, Curriculum Manager for Continuum Development. "IB World Schools help students engage in inquiry, action and reflection on locally and globally significant issues across the curriculum." And fittingly, the qualification is internationally benchmarked, allowing graduates to continue their studies anywhere in the world. 
Universities recognize it - and give credit for it
The number of higher education institutions recognizing the Diploma Programme grew 21 per cent in 2011, backed by a proactive campaign of engagement, including a range of professional materials made available on the official IB website (www.ibo.org/recognition). And IB students are at an advantage with elite institutions: in the US, IB graduates are 21.4 per cent more likely to be admitted into 10 of the country's most prestigious universities, including Harvard, Princeton, Yale and Stanford. 


IB graduates were much more likely to be enrolled 

at one of the top 20 higher education institutions 

than entrants holding other qualifications

The IB encourages critical thinking
Students learn to look beyond the facts: to analyse sources, link one subject to another and question the consensus. Inquisitiveness and interpretation are among the key cognitive properties of an IB education: a 2012 study of Diploma Programme students in Chicago found strong academic skills, especially related to analytical writing. Leading thinkers such as Professor Howard Gardner have identified the ability to reflect and critique as vital to effective 21st century learners.
You'll never need to learn time management
All that rigorous, independent study leads to vital organizational techniques that only become more important when students reach university. Good study habits create learners who hit the ground running in higher education. The 2012 Chicago study of Diploma Programme students found that they were able to set aside time for homework and resist going out with their friends when they needed to study.
It assesses more than examination techniques
Diploma Programme assessments are summative, largely taking place over the two years of the programme, focusing on what students have learned and their abilities, rather than what they haven't learned or can't do. Testing is rigorous, backed by high level evidence and is based on performance against set standards. As well as helping give a true picture of student performance, it also assists universities in the admissions process – with no grade inflation for more than 30 years, the Diploma Programme is a reliable and internationally consistent measure of academic excellence.
Subjects aren't taught in isolation
One of the main differences between the Diploma Programme and other curricula is Theory of Knowledge (ToK) – classes that encourage students to make connections between subjects and gain the skills they need to become critical thinkers and more effective learners, rather than simply repositories of knowledge. But ToK is only part of the picture: teachers in IB World Schools are encouraged to plan interdisciplinary classes. Seeing connections between subjects also helps prepare students for higher education studies, where learning is becoming less compartmentalized. 
And here are 10 more…
The IB learner profile offers 10 qualities underpinning the Diploma Programme and the learners who embrace it. From 'open-minded' to 'balanced', they form a framework for an international education that goes much deeper in meeting the needs of a changing world. View the Learner Profile 
Quotes About the IB Programme from College Admissions Counselors
"Connecticut College highly values the IB program as it prepares students for the liberal arts in ways that few secondary school curriculums can. The required senior project and the TOK class's interdisciplinary approach are prime examples of the kind of work students will be expected to do on most college campuses today. In addition, colleges and American universities highly value community service, another important component of the IB curriculum. Students who have graduated from schools with the IB curriculum are extremely well prepared when they arrive on our campus."

 

 

— Martha Merrill, Dean of Admission and Financial Aid, Connecticut College

 

 

"In our minds, there is no more challenging curriculum than the IB curriculum. Not only does it prepare students for a demanding college program, but the IB curriculum also instills in students a love of learning and an understanding of the truly interdisciplinary nature of education. Instead of working on each subject in a vacuum, IB students are shown how each of their classes connects both with the other classes and with the world around them…"

 

 

— Thyra L. Briggs, Dean of Enrollment, Sarah Lawrence College

 "IB is well known to us for excellent preparations. Success in an IB programme correlates well with success at Harvard. We are always pleased to see the credentials of the IB Diploma Programme on the transcript."

 

— Marilyn McGrath Lewis, Director of Undergraduate Admission, Harvard University

 "Students seeking the finest [high school] preparation available for an American college should consider the International Baccalaureate. The IB offers an integrated curriculum that provides students with the skill needed to be world-class scholars and an educational philosophy that prepares them to be first-class citizens. I do not know of a more comprehensive and appropriate learning model."

 

— Jim Crowder, Director of Admissions, Macalester College

 

 "Send us prepared students a la IB…It is the "best" high school prep curriculum an American school can offer."

 

— Marilee Jones, Former Director of Undergraduate Admission, Massachusetts Institute of Technology

"One of the advantages of an IB curriculum is its structure and quality. It is a coordinated programme, well established, well known and well respected. We know the quality of IB courses, and we think the IB curriculum is terrific."

 

 

— Christoph Guttentag, Director of Undergraduate Admission, Duke University

 These quotes are from In Their Own Words: Quotes about IBO.