100 years after earning the right to vote, women lead the way in San Diego
---
An important anniversary in women's history is coming up next week. On June 4th, 1919, Congress passed the 19th Amendment giving women the right to vote. It would take another year for ratification, which came the following August. California was the 18th state to endorse the measure of the 36 states required to add the Amendment to the Constitution.
100 years later, the effects of this momentous step forward are clear to see, especially here in San Diego. Women hold many of the most prominent leadership positions in our city today, and nowhere is that more true than in the education sphere. A young girl or boy from San Diego can grow up in a school system directed by Board President Sharon Whitehurst-Payne and Superintendent Cindy Marten, move on to an amazing community college in a network run by Chancellor Constance Carroll, and eventually earn one of the 95 bachelor's, 78 masters and 22 doctoral degrees available at San Diego State University under President Adela de la Torre.
Behind each education leader in San Diego, there is the story of an inspiring woman who had to develop her own identity as a leader, often because there was no model to imitate.
Whitehurst-Payne grew up in the segregated South and became one of the first African-American women to graduate from Duke University. Marten was a successful principal inside the San Diego Unified system who was named superintendent in in 2013, helping to bring stability to the district that had seen a revolving door of leaders. Carroll began one of the nation's most distinguished educational leadership careers by taking a chance while working as a teaching assistant. De la Torre's path to becoming the first woman president at San Diego State began with inspiration from her grandparents, who immigrated to the Central Valley from Mexico.
We asked each of these inspiring women what it's like to be a female leader today in education, and what we can tell today's generation of young women with big dreams, 100 years after the 19th Amendment.
"I believe in balance, and when you look at most of the country, one thing stands out," said Whitehurst-Payne. "Education is heavily populated with women employees, but not at the top. Not at the upper echelon."

Whitehurst-Payne, who spent her childhood in a racially segregated school system, has seen firsthand how social progress can stem from the education field.
"San Diego [Unified] is unique in that we have a female board president and superintendent, but even here, I think there have only been  two female superintendents," she said. There's still a ways to go, but we're going the right way."
It shouldn't be overlooked that the leader of California's second-largest community college system is also a woman of color.

"It is important for everyone to understand the unique history of the United States during which many people were denied the full rights of citizenship," said Carroll, Chancellor of the San Diego Community College District. "Enormous numbers of people were enslaved and others simply were denied rights, especially the right to vote. Over time, as human conditions improved, rights, too, improved. However, women did not receive the right to vote until 100 years ago."
Carroll, who also served on the National Council on the Humanities under President Barack Obama, took the first step into educational leadership when her university created new opportunities for women and minorities. This type of encouragement remains just as important today.
"Young women need to be encouraged to take full advantage of this right and also to consider running for public office… We are at a critical point in our history and it is definitely a time for bringing women fully into leadership at all levels of the nation," Carroll said.
While there are still many hurdles to overcome, the social advancements made after the 19th Amendment should be celebrated as well. Some of the nation's most transformative progress has been made right here in San Diego, and is clear to see.
When San Diego State University first opened, the women who attended it didn't even have the right to vote. Today, Adela de la Torre now leads the university as the first female president in its 122-year history.

"More than half of all students at most colleges and universities are women, so having equal representation of female presidents makes sense," de la Torre said in a CSU interview. "It is critical that opportunities for women increase in order to provide the important leadership role models for students."
As a young girl, de la Torre drew inspiration from her Spanish-speaking grandmother. She would go on to become the first Mexican-American woman to earn a Ph.D. in her field from UC Berkeley, something she attributes to the encouragement her grandmother gave her early on.
"To be successful, you need to tap into emotional support that can fuel the kind of resiliency you will need to help you ignore the noise in the room. Your resiliency will help you to identify and take advantage of creative opportunities despite opposition you may find: Individuals who do not see you, environments that do not support your vision, people who devalue your capacity as a leader. That's the noise. And when you have the support from family or faith or community or mentors that propels you forward, and when you surround yourself with the support of those who believe in you, you will develop the capacity to stay focused and achieve your goals."
San Diego Unified Superintendent Marten also recognizes the role of influential women in her life, beginning at an early age in Girl Scouts and perhaps most notably from her mother, Fern. "My mom always taught me the power of giving back to our community. That's something that's stayed with me to this day. Largely because of her example, I always believed I could dream big and make a difference in the world."

As the leader of one of our nation's largest school districts, Marten also finds inspiration in her fellow education leaders, including Carroll, de la Torre, and Whitehurst-Payne. A San Diego native, Marten says having so many women in leadership roles should be a source of local pride.
"As someone who grew up here in San Diego and attended these schools, it's quite a feeling to see all of these incredible women guiding our city and taking the lead in educating the next generation," Marten said.
"In San Diego we believe in equity and excellence, and here you can see that our education system truly supports this at every level. It's one thing to tell a young woman she can achieve any goal through hard work, but it's entirely another to be able to show her with real examples, right here in her own home city."
Marten also likes to point out the depth of female leadership in all aspects of San Diego's economy, not just education.
Some of the influential positions held by women include District Attorney Summer Stephan, San Diego County Regional Airport Authority President/CEO Kimberly Becker, San Diego County Credit Union CEO Teresa Halleck Campbell, and several high-level elected officials, including Congresswoman Susan Davis, Assemblymembers Lorena Gonzalez and Shirley Weber, and California Senate President pro Tempore Toni Atkins, the first woman to ever hold this position.
While much work remains to be done in advancing equality for women worldwide, the message is clear in San Diego: this city believes in its young women, supports their ambitions, and has an incredible slate of role models to show them that their dreams are possible.
"Going on this journey I learned two important lessons," de la Torre said. "First, don't be afraid of creating something that doesn't exist. Second, don't be deterred by rejection. Think of rejection as just another opportunity to get feedback. Create the structure you need to surround yourself with others who share your aspirations, whether they be family, friends or colleagues.
"Then go for it. With your clear vision in mind and dedicated focus, you have nothing to lose."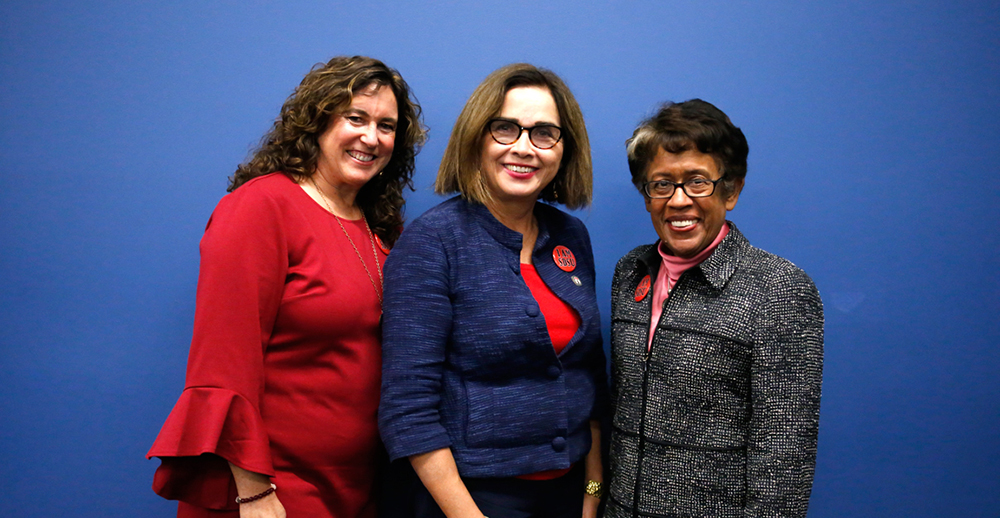 Students, parents, and staff are encouraged to check out exhibits on the 19th Amendment and other empowering topics of women's history, now on display at the Women's Museum of California: https://www.womensmuseumca.org/gallery-exhibits